Resources
Neon Hardware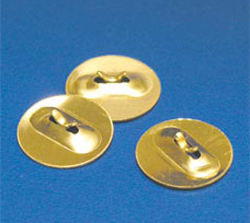 Brass Electrode Buttons
Electrode buttons are most commonly used to provide positive high voltage connection for electrodes inserted in spring type housings or similar receptacles. Our brass electrode buttons are designed for use with 12mm-15mm electrodes, though they can function effectively with electrodes of other sizes. Electrode wires are fed through two flanges stamped in a recessed area in the center of each button. By twisting the electrode wires after insertion through the flanges the button becomes attached to the electrode and provides a large conductive surface for high voltage connection.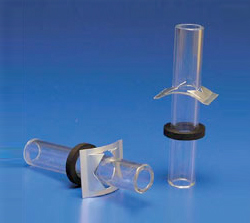 Slipstick High Tension Cable Bushings
The slipstick is commonly used as thruwall insulation for high tension cables. The heavywall Slipstick glass measures 4 inches long with an outside diameter of 19mm. A one way spring steel clip slips easily into adjustment and won't back off. The secure rubber shoulder and heavywall glass insulating tubing insure protection for high tension cables.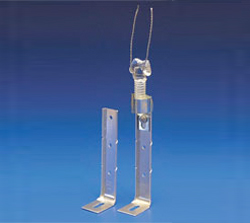 Aluminum Extension Post
For special applications which require further distance between the fluorescent tube and the sign face we suggest this aluminum extension post. Sturdy construction and neat appearance with cut-off notches from 2 to 5 inches make it useful in many situations. (Tube support not included.)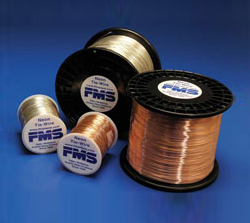 Tie-Wire
The same high-quality 22 AWG wire used on FMS pre-wired tube supports. Available in bare copper or tin plated copper. One pound or five pound spools.