---
McMahan Neon Tube Supports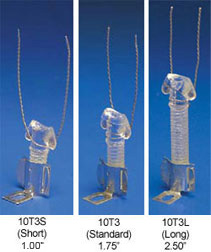 Model 10T3

This support features a 10mm diameter threaded glass stand which is 1.75" from center of saddle to end of stem. Our exclusive two-piece spring temper brass base features two locking notches which hold the glass more securely than conventional one-piece bases. The 10T3 is available in a 1.00" short version (10T3S) and a 2.50" long version (10T3L). All heights are available with or without tie-wires attached.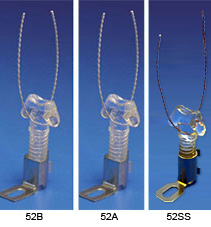 Model 52

Our most economical glass tube support, the Model 52 features a one piece base in either aluminum or brass.
Model 835

The Model 835 tube support is designed for applications where more space is desired between the neon tube and the mounting surface. The glass stand is 3.50" long with cutoff notches every quarter inch. The Model 835 features a two-piece zinc plated spring temper brass base.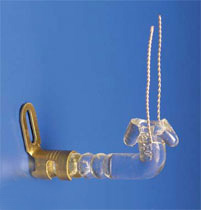 Model 90

Our Model 90 is designed for use where straight tube supports are not practical, such as near double-backs or on vertical surfaces. Silicone coating in the saddle cushions the tube and reduces shifting during transit or installation. The Model 90 provides approximately 1.75" clearance from the mounting surface so it is compatible with standard length straight tube supports.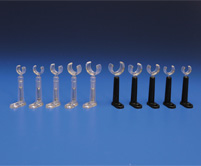 SnapLock (SL)

Spring-loaded plastic clips firmly grip neon tubes without the use of tie-wire. Upon installation, SnapLocks become nearly invisible to minimize visual clutter and give your signs a clean look. Off-set mounting flange allows proper positioning, and can be either glued or screwed to the mounting surface. Tough polycarbonate plastic and stainless steel spring make these units appropriate for many interior or exterior applications. Packed 100 per box.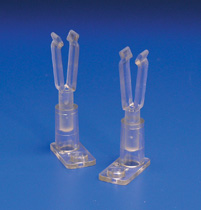 VersaGrip (VG)

Versatile "V" clip design accommodates tubes from 10mm up to 15mm. Made of tough polycarbonate with UV inhibitors for maximum durability. Off-set base and rotating clip increase mounting options. Can be glued or screwed to the mounting surface.
CART:

Store Log In